1. Normally, 1-2g/h ozone for 1 cubic meter water/hour, water circulation time 6-8hours/day. Could replace completely the chlorine. For example: A 120m3 pool, water circulation time 6hours/day, so, 20m3 water/hour,a 10-20g/h oxygen source ozone generator is suitable for it.
2. It still needs some accessories. The ozone-water mixing device is venturi, pressure pump is used to increase the water flow rate in venturi, reaction tank is used to store the after mixing ozone-water for a better mxing.
3. For small swimming pools, we can also use our YTseries all-in-one ozone water machines. (all accessaries are included)
4. YTseries all-in-one ozone water machines can also be used in drinking water treatment, generating ozone water for appliance desinfection etc.
oxygen source ozone generator
ozone concentration ( 80-100mg/l )
model
ozone production
cooling
power
YT-015
10g/h
air cooling
680w
YT-015
15g/h
air cooling
780w
YT-016
20g/h
water cooling
850w
YT-016
30g/h
water cooling
950w
YT-016
40g/h
water cooling
600+air compressor
YT-017
50g/h
water cooling
650+air compressor
YT-017
60g/h
water cooling
700+air compressor
YT-017
80g/h
water cooling
800+air compressor
YT-018
100g/h
water cooling
950+air compres
HY-018
150g/h
YT-018
150g/h
HY-018
200g/h
YT-018
200g/h
HY-019
300g/h
YT-019
300g/h
HY-020
400g/h
YT-020
400g/h
HY-021
500g/h
YT-021
500g/h
HY-022
600g/h
YT-022
600g/h
HY-023
700g/h
YT-023
700g/h
HY-024
800g/h
YT-024
800g/h
HY-024
900g/h
YT-024
900g/h
HY-025
1000g/h
YT-025
1000g/h
 Ozone generator swimming pool water treatment Installation diagram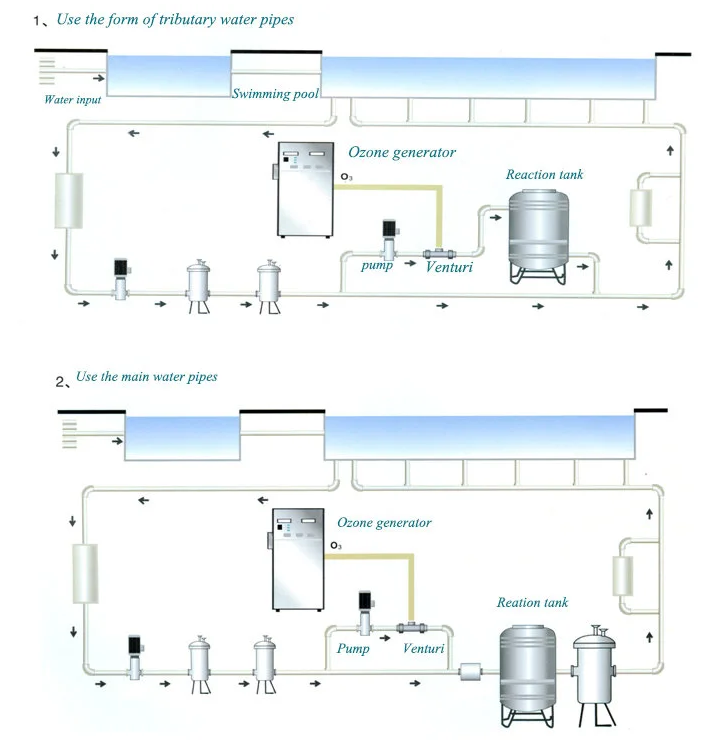 * Ozone generator swimming pool water treatment Installation site